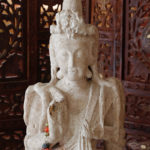 Around 1988 a group of people in the Albuquerque area began to meditate together and named themselves the Albuquerque Vipassana Sangha. Meetings rotated among members' homes. On a weekly basis, members usually sat and then listened to a taped dharma talk or discussed a book. This phase of the Sangha lasted for about 9 years.
In 1997, Eric Kolvig became the resident teacher for Santa Fe Vipassana Sangha and Albuquerque Vipassana Sangha. Eric left New Mexico in 2010.
In 1999, the Albuquerque Vipassana Sangha incorporated as a nonprofit and in 2000 received tax-exempt status from the IRS.
Over time, the membership grew, and to accommodate larger groups, the Sangha began to meet every Thursday at a local church, and then moved several times before settling at the Wat Buddhasothorn temple for a number of years. Senior Sangha members and visiting teachers offered Dharma talks and facilitated other activities. In 2009, the Sangha added Sunday evening practice opportunities for people who couldn't attend on Thursdays. Additional activities (study groups, non-residential retreats, etc.) were organized at other locations.
In 2014, the sangha rented space at the Rosemont Center in the Martineztown neighborhood of Albuquerque. This move allowed and encouraged a wider variety of activities at a central location. Thursday and Sunday evening gatherings, morning and afternoon meditation periods, weekend half-day sits, non-residential retreats, meetings, study groups, individual practice discussions, social gatherings, and individual practice meetings all occurred at the Rosemont Center on a regular basis.
In 2017, the organization's name was changed to Albuquerque Insight Meditation Center, Erin Treat was engaged to be the guiding teacher. Kathryn Turnipseed was named senior community dharma leader in 2018, and served in that position for one year. Valerie Roth served as the senior community dharma leader from 2018 to 2022.
Due to COVID-19 pandemic restrictions, the sangha moved out of the Rosemont Center at the end of 2020. Since the beginning of the pandemic, the sangha has offered gatherings on Zoom. In 2022, a few in-person gatherings were held, with more planned for 2023.
On May 1st, 2023, AIMC found a new home at 5411 Osuna Rd NE, Albuquerque, NM 87109. Our first in-person meeting was June1st. We will continue to have hybrid events for the near future at this location.