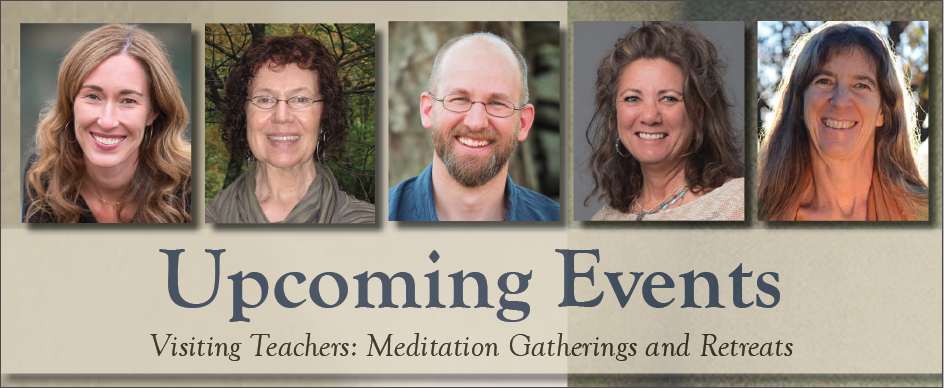 Erin Treat
Meditation Gathering and Dharma Talk:
Thursday, March 28

Mini-Residency:
Friday – Sunday, June 7 – 9
Friday, June 7
6:30-8:00pm
Meditation Gathering and Dharma Talk
Saturday, June 8

Daylong Retreat
Erin Treat currently serves as a guiding teacher for Albuquerque Insight Meditation Center. She is also the guiding teacher of Vallecitos Mountain Retreat Center, and sits on the Spirit Rock Teacher Council. She serves as resident teacher and board member at the Durango Dharma Center. Her approach to sharing the dharma is influenced by her love of wild nature, her passionate commitment to serving personal and collective liberation, and her ongoing experience as a student of the Diamond Approach by A.H. Almaas.
---
DaeJa Napier
Mini-Residency:
Thursday – Sunday, June 20-23
Schedule to be announced.
In addition to this retreat at AIMC, DaeJa will also offer a retreat at Pecos Monastery that is sponsored by Santa Fe Vipassana Sangha. For that separate event, you can find information on their website.

DaeJa Napier is the founding and guiding teacher of the Brahma-Vihara Foundation. She teaches Vipassana meditation with an emphasis on the cultivation of the four Brahma Viharas: loving kindness, compassion, appreciative joy and equanimity. She has been practicing and studying in various Buddhist traditions since 1974. Her root teacher is the late Zen Master Seung Sahn. Her practice continues to be enriched through intensive practice under the guidance of Asian and Western teachers including Sayadaw U Pandita, Pa Auk Sayadaw and her western mentor, Joseph Goldstein. DaeJa has dedicated her life to exploring the traditional pathways to awakening and their application in daily life.
---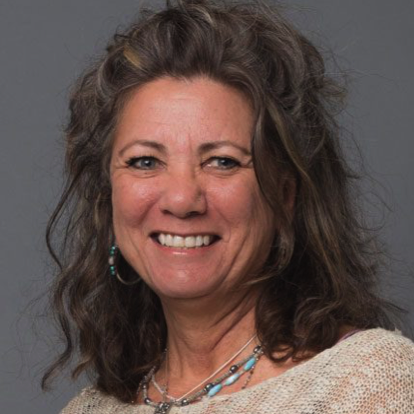 Julie Tato
Meditation Gathering and Dharma Talk:
Thursday, July 11
Julie Tato is a regular guest speaker at Taos Mountain Sangha, and in Santa Fe and Albuquerque. She has practiced meditation since 1988, primarily Vipassana, with Sharon Salzberg, Marcia Rose, and many others, including Ven. Tsoknyi Rinpoche. Also an instructor of Mindfulness-Based Stress Reduction, she has a particular interest in Lovingkindness meditation and in practice in daily life. Julie also teaches meditation with youth, parents, those recovering from loss, at the Lama Foundation. She has lived, worked, & practiced in spiritual community, including many years at the Lama Foundation near Taos and at the Insight Meditation Society in Massachusetts. Julie also works providing spiritual care at Taos Hospice. She is also, to borrow a phrase from her friend Mirabai Starr, "spiritually promiscuous", being a devotee of Neem Karoli Baba, the Blessed Virgin Mary, White Tara, Murshid Samuel Lewis, as well as the Buddha! Lately she is inspired by the exciting confluence of Buddhism and activism of Zen priest Rev. angel Kyodo williams.
---
Brian Lesage
Meditation Gathering and Dharma Talk:
Thursday, July 18

Finding Freedom through Insight Meditation: A Non-Residential Retreat
Friday – Sunday, July 19-21
This retreat offers the unique opportunity to practice Insight Meditation—a simple and direct practice based on moment-to-moment awareness, a technique that opens the heart and clears the mind. We will practice continuous mindfulness in silence through sitting and walking meditation. Freed from much of the daily barrage of stimulus that draws our attention outward, we delve deeply inward. Learning to be aware of our experience from a place of stillness and equanimity allows us to see more clearly; and as insight deepens, compassion and wisdom can arise. This retreat is designed for both beginners and experienced practitioners. Please email questions to Osa. Registration will be posted soon. Participants are asked to commit for Friday evening through Sunday afternoon to derive maximum benefit from this brief retreat .
Friday, July 19
6:30-8:00pm
Sunday, July 20
9:00am-5:00pm
Saturday, July 21
9:00am-3:15pm
Brian Lesage has practiced Buddhist meditation since 1988 and has taught meditation since 2000. He has studied in the Zen, Theravada and Tibetan schools of Buddhism. He was ordained in the Rinzai Zen tradition in 1996. His training in vipassana meditation includes doing extended meditation retreats in Myanmar (Burma), Nepal and India as well as numerous retreats in the US. He leads retreats and teaches meditation courses nationwide. Brian also has a private practice in Somatic Experiencing, which is a naturalistic approach to healing trauma. You can also visit his website for Somatic Experiencing at www.liberatingawareness.com.
---
Susie Harrington
Awakening Love and Insight:
OFF-SITE Residential Retreat
August 18-25
AIMC and Santa Fe Vipasana Sangha are co-sponsoring this retreat at Pecos Monastery. Please email Osa Arkin or Sarah Grant if you have questions, or if you would like to receive registration materials by email on April 1. Registration opens April 1.

This retreat is open to all. Our intention is to dissolve the barriers that support and perpetuate the suffering caused by separation, such as prejudice and discrimination.  We hope to accomplish this by creating space for diverse practitioners who bring a variety of perspectives that enrich the experience of all. Practitioners from groups generally less-represented in the western dharma are strongly encouraged to apply. 
We expect demand for this retreat to exceed the available space.  We will use a lottery for registration, as we believe it will lend a measure of equity to the process. To participate in the lottery your application must be received by April 30.  For registrations received during April, applicants will be notified on May 1 whether they have a spot or will be offered a position on the waiting list. Registrations received after April 30 will be considered on a first-come first-served basis. A deposit of $100 is due with the application. We will not deposit the checks until the lottery; deposits via PayPal will be refunded by May 3. Scholarships are available!
Susie Harrington teaches meditation nationwide and is the guiding teacher for Desert Dharma, which serves many communities in the Southwest near her home in Moab, Utah. She has trained in the Insight tradition since 1989, and in 2005 was invited into teaching by Jack Kornfield, Joseph Goldstein, and Guy Armstrong. She has also received teachings from many others, including Tory Capron, Adyashanti, and Tsoknyi Rinpoche. She often offers retreats outside, believing nature to be a profound teacher, and a gateway to our true self. Her teaching is deeply grounded in the body and often emphasizes the expression of mindfulness in speech and daily life. Susie brings the skills of inquiry, relational dharma, and the psychological/spiritual interface to her teaching, informed by her ongoing study of the Diamond Approach by A.H.Almaas and as a graduate of Hakomi Therapy (a somatic psychotherapy modality). She offers a two-year intensive program, Dharma in Daily Life, where she delights in mentoring the innate qualities of heart and wisdom in everyday practice. Her practice is rooted in periods of long retreat both indoors and outdoors, which offer nourishment and inspiration for her teaching. She was an outdoor professional for over 30 years, including years as a river guide, mountaineering guide, and backcountry ranger, and now finds her greatest delight in sharing her love of the dharma and the natural world.