May 17, 2019
@
3:00 pm
–
May 25, 2019
@
1:00 pm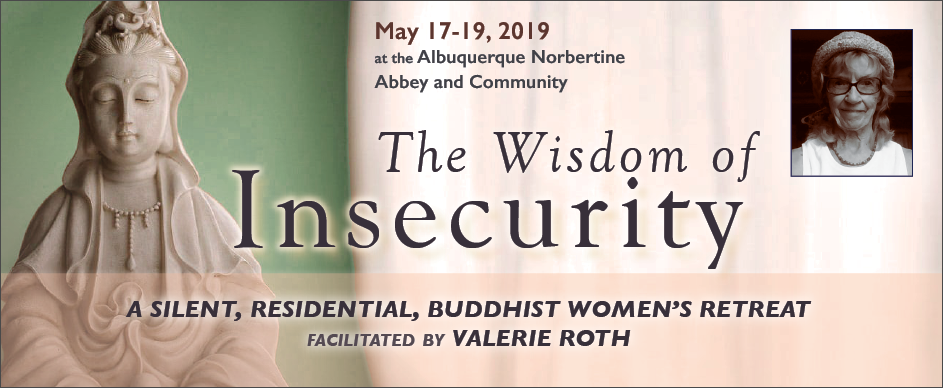 "Anicca vatta sankhara" – all things are impermanent. This phrase begins one of the suttas in the Dhammapada. The Buddha emphasized the importance of bringing awareness to the truth of impermanence.
With a combination of sitting, walking and dharma talks, this retreat offers an opportunity for us all to allow greater awareness of this basic characteristic of our experience as human beings, which is one of the doorways to liberation. As we grow in our understanding of impermanence (uncertainty, inconstancy, or "not sure" as Ajahn Cha translated Anicca), we become more at peace in the moment with greater presence of mind and heart.
VALERIE ROTH began study and practice of the Buddhist path 30 years ago while completing a Masters Degree in East West Psychology. She continued practice and study over the years of living and working as a Physical Therapist in Hawaii, California, New York, and on the Navajo Nation. She has studied and practiced with several different teachers, all in the Theravada lineage. She completed training as a Community Dharma Leader at Spirit Rock Meditation Center in 2008 and was active in the Albuquerque Vipassana Sangha for several years. She taught classes for those new to practice and also served on many administrative committees. In recent years she has travelled in a small motorhome, and is pleased to be moving back to Albuquerque. Her focus is on practice in daily life, and offering service in support of what builds community.
Friday, May 17th check-in time is 3:00-5:00 pm, and will be followed by a vegetarian/vegan potluck dinner. The retreat will end Sunday at 1:00 p.m.
All rooms are private.
Total Cost: $140 plus teacher Dana.
We hope you will join us! Register here.
For questions, please call or e-mail:
505-449-7753
joy@diannemoody.com