Daylong Retreat with Erin Treat: The Gift of Wise Attention
November 23, 2019 @ 10:00 am

-

4:30 pm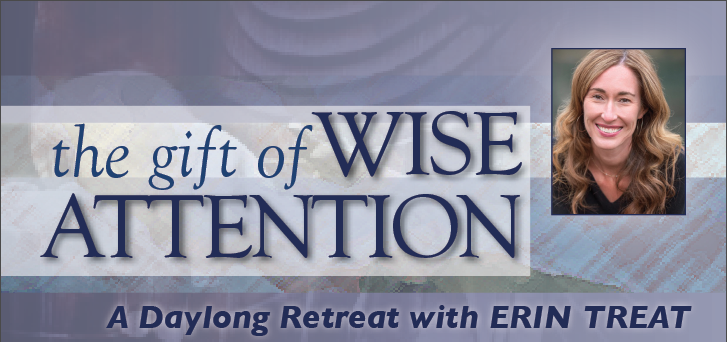 According to Buddhist wisdom, the dharma—the natural truth that holds each of our lives—is visible here and now, timeless, and to be realized by the wise. The truth is not something magical or remote. It is accessible through our direct experience, and mindfulness is what helps us see what is true in each moment with clarity and focus.
During this daylong retreat, we will cultivate a wakeful and receptive heart as we turn toward the nature of awareness, drawing specifically upon the Sattipathana Sutta, the foundational text for the practice of mindfulness meditation. Allow yourself to touch and be touched by life through mindfulness practice grounded in loving-kindness and compassion. These heart qualities help us to attune to the deeper intelligence of the dharma.
In a world of such profound need, when we abide in the present moment with wise attention, we cultivate the refuge we seek as human beings. This retreat will include sitting and walking meditation as well as dharma reflections. All are welcome, including those new to meditation as well as experienced practitioners.

Erin Treat currently serves as a guiding teacher for Albuquerque Insight Meditation Center. She is also the guiding teacher of Vallecitos Mountain Retreat Center, and sits on the Spirit Rock Teacher Council. She serves as resident teacher and board member at the Durango Dharma Center.
Her approach to sharing the dharma is influenced by her love of wild nature, her passionate commitment to serving personal and collective liberation, and her ongoing experience as a student of the Diamond Approach by A.H. Almaas.

This is event is at capacity. Please feel free to sign the waitlist to be notified if space opens up.