Finding Balance: A Daylong Retreat with Kathryn Turnipseed
June 29, 2019
@
9:30 am
–
4:00 pm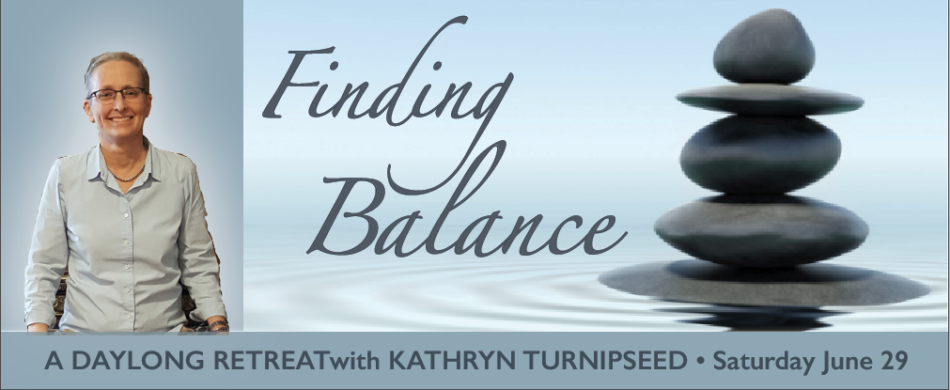 Join Kathryn for a day of practice to bring awareness to the potential for clarity and inner freedom in the midst of the 'worldly winds.' Whether you find your balance challenged by the demands and stresses of family, work, or the injustices besetting our world, find your way back to center and into balance.

This silent day of practice will focus on cultivating awareness in the midst of challenge. As we deepen into inner freedom we invite the feelings of calm, strength, and centeredness in the face of difficulty. The retreat will include sitting and walking meditation with instruction, dharma reflections and small group sharing. This retreat is suitable for both beginning and experienced practitioners.

This retreat is offered on the basis of dana, a practice of mutual generosity that has been alive since the time of the Buddha. At the end of the retreat there will be an opportunity to offer a donation to the teacher.

Kathryn Turnipseed is a Community Dharma Leader at AIMC. She found the dharma in 1995 when working with anti-war and civil society organizations in Bosnia and Croatia. She graduated from the Community Dharma Leader Program at Spirit Rock Meditation Center in 2012, and completed the Integrated Study and Practice Program at Barre Center for Buddhist Studies in 2013. Kathryn is passionate about individual and collective liberation. She also teaches at Santa Fe Vipassana Sangha, is a GreenFaith fellow, and serves on the board of the Vallecitos Mountain Retreat Center.