The Art of Reading the Pali Discourses Today: A Daylong Retreat with Brian Lesage
September 23 @ 10:00 am

-

4:30 pm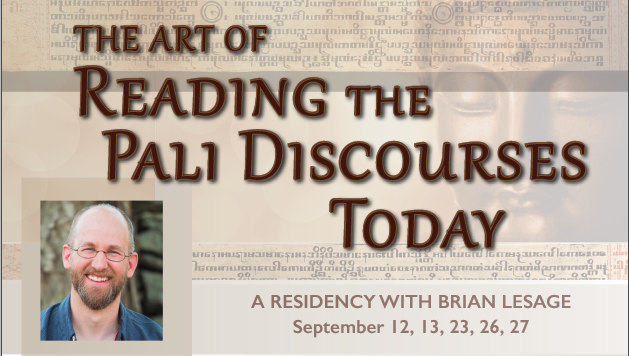 The Pali Discourses (Suttas) are the primary texts in Theravada Buddhism, and 2,600 years later these teachings are still relevant.
During this residency we will explore how to go beyond the words, reading the Suttas critically and sympathetically, so they become relevant to our lives, personally and socially. We will then incorporate this learning into our spiritual practice.

September Residency Events
Wednesday, September 12th

   

Study group 6:30-8:00pm (this event is full)
Thursday, September 13th

   

Meditation/Dharma Talk

6:30-8:00pm

Sunday, September 23rd    Daylong retreat

 

9:00am-4:30pm

Wednesday, September 26th

   

Study group

 

6:30-8:00pm (this event is full)
Wednesday, September 27th

   

Meditation/Dharma Talk

 

6:30-8:00pm

30 minute Practice Discussions: 13th, 26th, 27th

 

3pm to 5pm

Registration for practice discussions ONLY here. (Only a few time slots remain)
Register for study groups and daylong retreat below.
No need to register for Meditation/Dharma Talk Gatherings.
There is no fee to participate. The practice of Dana (generosity) lies at the heart of Buddhism, reflecting a deep understanding of interconnection and freedom from craving. A teacher offers the teachings; those who are present offer support for the teacher's efforts, and for the sangha which provides opportunities for yogis to learn and practice. In this way, generosity strengthens relationship and reciprocity. We welcome donations at events and through the "donate" page on our website. Thank you!
If you have questions about these events, please .
Please register for the Daylong Retreat here: