Alan Senauke – Right View on the Eightfold Path: Buddhism and Social Justice
March 13 @ 6:30 pm

-

8:00 pm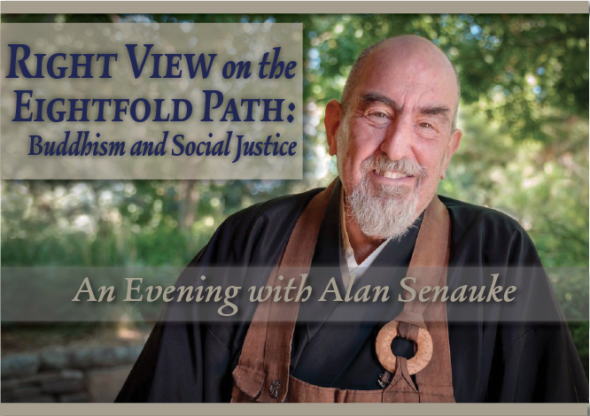 Join us for meditation, and a talk and open discussion on Buddhism and social justice activism.
The talk and discussion will focus on Right View on the Eightfold Path which helps us to work skillfully with biases, different belief systems, and ideas that surface, both in the context of Sangha as well as in the larger world of social justice work.
HOZAN ALAN SENAUKE is a Zen Buddhist priest, vice-abbot of Berkeley Zen Center in California. As a Buddhist activist Alan works closely with the International Network of Engaged Buddhists and Buddhist Peace Fellowship. He is on the core faculty of Upaya Zen Center's chaplaincy training program. In 2007 he founded Clear View Project, developing Buddhist-based resources for social change in Asia and the U.S., with a focus on Burma and on "ex-untouchable" Buddhists in India. Alan just concluded a term as president of the Soto Zen Buddhist Association, a U.S. body of Soto Zen priests. In other lives Alan is a father, a musician, and writer, not necessarily in that order.
There is no fee to participate. Dana (donations) to support the teacher and the sangha are gratefully accepted.
The practice of Dana (generosity) lies at the heart of Buddhism, reflecting a deep understanding of interconnection and freedom from craving. A teacher offers the teachings; those who are present offer support for the teacher's efforts, and for the sangha which provides opportunities for yogis to learn and practice. In this way, generosity strengthens relationship and reciprocity. We also welcome donations at events (in bowls in the front hall).
If you have questions, please e-mail .