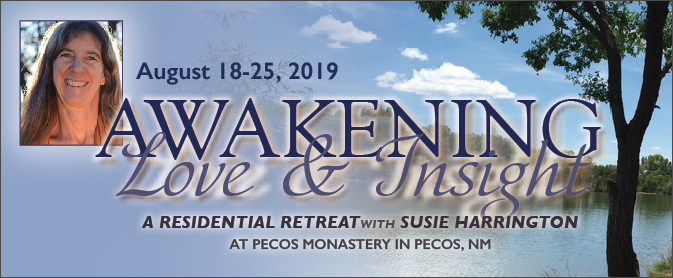 Practice Insight Meditation at Pecos Monastery, nestled in the wildness of the hills of northern New Mexico on the Pecos River. The extensive grounds offer a spacious setting for cultivating practice. The comfortable accommodations and healthy vegetarian meals nurture well-being.
Insight Meditation is a simple and direct practice based on moment-to-moment awareness, a technique that opens the heart and clears the mind. In practicing mindfulness in silence throughout the day—in sitting and walking meditation–we learn to be aware of our experience from a place of stillness and equanimity. As we come to see more clearly, insight deepens, and compassion and wisdom can arise.
This retreat, designed for beginners and experienced practitioners alike, will include meditation instruction, dharma talks, individual practice discussions with the teacher and group discussion time. There is a beautiful meditation space at the Center, and we will also sit outside as conditions allow.
This retreat is open to all. Our intention is to dissolve the barriers that support and perpetuate the suffering caused by separation, such as prejudice and discrimination. We hope to accomplish this by creating space for diverse practitioners who bring a variety of perspectives that enrich the experience of all. Practitioners from groups generally less-represented in the western dharma are strongly encouraged to apply.
Retreat details:
• Check-in begins Sunday, August 18, at 3pm, and the Retreat begins with orientation at 4:30pm.
• Retreat ends Sunday August 25 at noon.
• We ask everyone to commit to stay to the end of the retreat, as it can be disruptive when people leave early.
• Please read all of the information below carefully before registering to attend.

ACCOMMODATIONS: All lodgings are single occupancy with private bath. You can read about the retreat center here.
FRAGRANCE REQUEST: To accommodate participants with allergies, asthma or chemical sensitivities, please do not bring any scented personal care products to the retreat. Your thoughtfulness will make the lives of others more healthful.
MEALS: There will be 3 Vegetarian meals per day, and we will honor as many dietary needs as possible. There will be a refrigerator available for special-needs foods.
SITTING: Participants need to bring their own zabuton, zafu, bench, and/or backjack for sitting. You may want to bring a small tarp and/or a camp chair for sitting outside.

RETREAT COST/SLIDING SCALE: $550-$750. The more you can pay toward the higher end of the scale supports scholarships for those with fewer resources. Many bows of gratitude for your generosity!
REGISTRATION: There are still openings for the retreat. Please click the link at the bottom of this page.
DANA: The Tradition of Dana (generosity) lies at the heart of Buddhism, reflecting a deep understanding of interconnection and freedom from craving. The Buddha's teachings are offered according to the principal of dana, an ancient Pali word meaning generosity, giving, or gift. Dana has played a central role throughout the 2,500 year-old tradition of Buddhism. Honoring this ancient custom, the teachers in our lineage receive no salary and rely entirely on the mutual generosity of retreat participants for their compensation. (Meals and housing are provided while they are teaching the retreat). Participants will have the opportunity to offer dana at the end of the retreat, so please have either check or cash available to participate in this beautiful heart practice.

QUESTIONS: For questions about the retreat, or scholarships, or registration, please email Osa.